In 15 of the past 16 months, non-bank lenders took out over $100 million in home loans each month, and likely over 250 new loans in each of those months. It is their best sustained spell since 2006, when they achieved it in 14 out of 18 months.
It's hard to call this an upward trend though, given that the new momentum is "building" their market share to just 1.7% of all home loans.
Non-bank lenders include building societies, credit unions, and finance companies. The first two lend like banks, their main objective being the borrower's ability to repay. Finance companies involved in home loans tend to be more "asset lenders", more focused on the value of the mortgaged asset and willing to be more "flexible" with the borrower's sources of income and/or imperfections in their credit history.
Nearly all home loans from finance companies will eventually be pooled into securitized pools for investors. This is how these lenders refinance their financing needs.
Over the years, institutions in the non-banking sector have shrunk, not only because of the fallout from the global financial crisis, but SBS Bank converted from a building society in 2008 (one in the chart), and Heartland Bank made a similar transition in 2012 (two on the chart).
Despite its small footprint in the New Zealand mortgage market, however, the recent expansion has been its best period.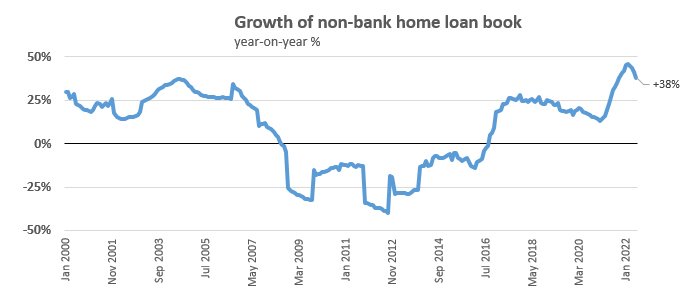 This recent surge comes as restrictions on banks prevent them from finding growth opportunities. In 2022, non-banks underwrote nearly 10% of new home loan business, recruiting borrowers who cannot tell the difference from banks. The broker channel is how these borrowers find non-bank options.
Of course, this change has a cost for borrowers. The premium interest is "real". As a general rule, non-banks lend at variable rates, encouraged by brokers who no doubt tell customers that when their financial situation improves, they can revert to a bank loan. But non-bank lenders offer fixed rates, and those with better finances will pay a lower premium that way. But it's hard to see why a borrower with prime finances would be a non-bank prospect.
| | | | |
| --- | --- | --- | --- |
| loan book | Banks | Non-banks | To share |
| | $ billion | $ billion | % |
| Jun-02 | 70.674 | 2.395 | 3.4% |
| Jun-07 | 138.139 | 8.171 | 5.9% |
| Jun-12 | 171.256 | 2.637 | 1.5% |
| Jun-17 | 235.835 | 1.922 | 0.8% |
| Jun-22 | 333.531 | 5.878 | 1.8% |